Ian Berry | Art From Denim
Ian Berry makes art out of denim jeans, but he's not a denim artist clarifies his Instagram bio. Denim is simply his medium for creating true-to-life artworks that could easily be mistaken as photographs or realistic paintings produced in a palette of blue hues.
Named as an influential figure in Rivet's Top 50 Movers and Shakers in the Denim Industry for 2019, Ian Berry's work has become world renown as he's lived in cities from Sydney, Skene to Amsterdam and is currently based in East London. Ian has been working with denim for over a decade, which started by using his own old jeans, before asking friends and sourcing from thrift stores. These days Ian receives donations of pre-loved denim garments as well as product samples from brands, all of which is sorted by gradient in his studio.
Ian acknowledges his work with denim began as an experiment after noticing the contrasting shades of blue in a pile of old jeans, which has since evolved over the years into a strong connection with the historical material. From landscapes to buildings, portraits and immersive installations, the meticulous detail of Ian's work is achieved through layers and layers of small pieces of denim in various blue to black fades and washes.
"With my work I'm always challenging myself with the way light hits things, and I try to be like a photorealistic painter, just with denim not paint" Ian informed Pinar Noorata from MyModernMet.
With the outbreak of Covid-19 impacting the world, Ian's young son who loved the coordinated clapping each week at 8pm on Thursdays in the UK - which started as a way for the wider community to show appreciation to healthcare workers on the front line - inspired a new piece of art which brought worldwide attention through what was titled the #iClapFor project.
Ian's artwork of two hands clapping in denim was recreated as painted murals on walls and digital projections featuring on buildings from Colombia to New York, Brazil and across 70 different places in the UK from Edinburgh Castle to the white Cliffs of Dover.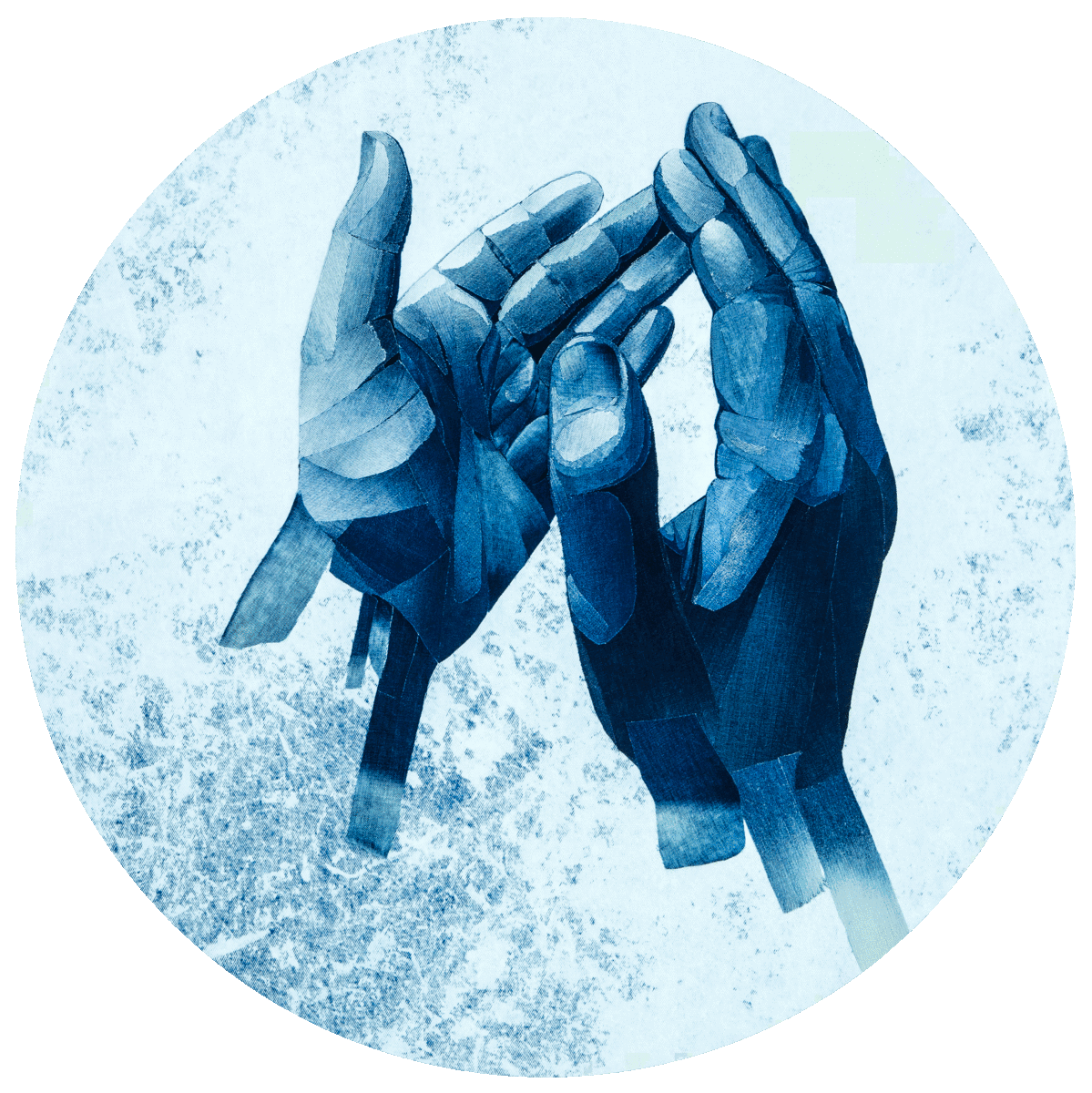 'When the clapping ends, the caring continues'
Explore the artworks and installations of Ian Berry below.
Art by Ian Berry




Hotel California
Solo exhibition at Catto Gallery, London
2019
Hotel California
Denim on Denim | 70 x 70 cm | 2019
And still the voices are calling from far away
Denim on Denim | 120 x 120 | 2019
Photo by Debbie Bragg
I had to stop for the night
Denim on Denim | 61 x 122 cm | 2019
The Roosevelt, LA
Denim on Denim | 90 x 122 cm | 2019
The American Jean
The Brooklyn Diner
Denim on Denim | 1220 x 610
Journey Home
Denim on Denim | 1220 x 6100
The Cheyenne has Gone
Denim on Denim | 1220 x 610
Silvercup
Denim on Denim | 110 x 400
The Secret Garden
Children's Museum of the Arts, New York Installation, 2018
The Secret Garden was a collaboration between Ian Berry and Tonello, the installation is now on permanent display at San Francisco's Flower Mart.
Photo | Lucinda Grange
Photo | Lucinda Grange
Learn more about The Secret Garden and behind the scenes of the Tonello x Ian Berry Collaboration HERE
Portraits
Self Portrait
Denim on denim | 2014 | 110cm x110cm
Gisele Bündchen
Denim on Denim | 400 x 300
Bound
Denim on Denim | 600 x 450
Ayrton Senna Sempre
Denim on Denim | Made with the Jeans of the Senna Family
All image credits - www.ianberry.art
To see more of Ian Berry's artwork with denim and future exhibition dates visit: Website - https://www.ianberry.org/
Instagram - @ianberry.art
If you work in denim or are interested in sourcing, designing and producing, grab a copy of our latest digital magazine " Denim of tomorrow" available now via our website.
References 1/ https://www.ianberry.org/stories
2/ https://www.designboom.com/art/denim-ian-berry-secret-garden-01-14-2018/ 3/ https://mymodernmet.com/ian-berry-denim-hotel-california/
4/ https://long-john.nl/collaboration-between-tonello-and-ian-berry-in-san-francisco/